A happier world sustained by


Value based living
Welcome to Lekol Enba Pie.
Life based on Human values is peaceful and full of happiness
Lekol Enba Pie is a Non Governmental Organisation that focuses on Human Values. Its activities aim at motivating people to live their life based on Values – Value based Living.
Members of the NGO are encouraged to make a self-analysis, become conscious of shortcoming/s, develop good daily habits that make everyone around them happy and become ambassadors of Value Based Living.
---
Human values are taught through the following activities:
Service to the needy
Muppet shows
Story telling
Brain storming sessions
Value based indoor games
Workshops on Human Values
Creativity activities
Character grooming sessions
Outings
Teambuilding sessions
Service facilities to Duke of Edinburgh participants
Our Vision
A happier world sustained by value based living
Our Mission
Working towards the wellbeing of one another through Human Values
Our Motto
Value based living
Logo and explanation of logo
The logo was designed by Ruben Sidien
The trunk of the tree represents the happy person waving hands and dancing. The heart shape leaves represent the human values that condition his thoughts, words, actions and habits. The whole logo in the shape of an umbrella represents the protection of human nature from self-destruction through value based living.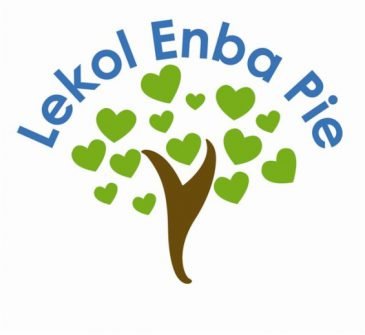 Thank you
Members of Managing Committee of Lekol Enba Pie wish to express their sincere gratitude and appreciation to all the persons from Mauritius and abroad who have contributed in cash or in kind to promote the activities of the organisation.
---
Project
2018
---
To have a mobile stage for Muppet shows.

To present Muppet shows on Value Based Living.
To place an Eco bin by the seat of Lekol Enba Pie.
To sensitise members, neighbourhood, friends and families to waste management through sketch performed by members of Lekol Enba Pie.
To extend the campaign by eventually placing Eco bin in other areas.
To educate people to Reduce, Reuse and Recycle plastic bottles.
Protect the Environment
Avoid using plastic bottles whenever possible;
Try to reuse plastic bottles as far as possible;
Otherwise make a proper disposal of plastic bottles.
Lekol Enba Pie in its quest for a healthy environment is now equipped with an Eco bin. You are invited to make use of this bin for a proper disposal of Plastic Bottles.
Read more